PayU Payments Plugin For MS Excel:
The easiest way to accept payments right from your Excel sheet!
DOWNLOAD PLUGIN NOW
Currently available only for Windows. Plugin for Mac is coming soon.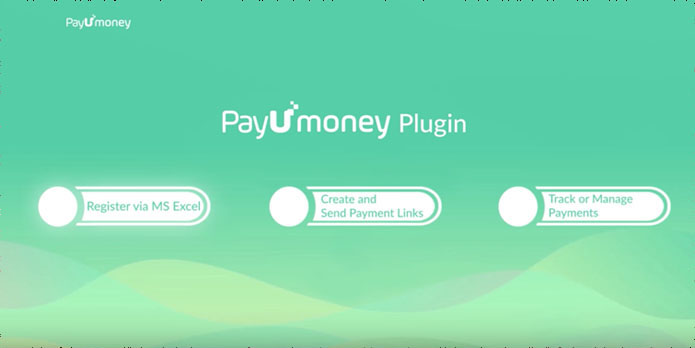 SEND MULTIPLE PAYMENT
LINKS IN ONE GO
Save time and resources with multi-payment links generation. Send directly to your customers' Email, SMS or both.
GET COMPLETE CONTROL ON TRANSACTIONAL DATA
Employees maintain their own excel for payment collection.
They don't need to access your main account data.
TRACK PAYMENTS REAL TIME &
SEND REMINDERS
Check status of payment links in real time: Paid, Unpaid, Expired - in Excel! Resend payment links if 'Unpaid'
ONE CLICK INSTALLATION
Easy to use and install without dashboard login or API integration or complex technical integration!
HIGHLY SECURE SYSTEM
Permanent data lock via "2 handshake mechanism". Payment links once created and sent cannot be tampered.
ZERO CHANCES OF ERROR
Auto-validation of data before sending out the payment links. Never miss out on payments due to any error.
Use PayU Payments Plugin For MS Excel If You
Extensively use Microsoft Excel
Already use Excel for finance, vendor & client management?
Start collecting payments too
Send multiple payment links
Tired of repeatedly sending payment links one by one?
Now, create and manage multiple payment links at one go
Operate from multiple locations
Want account control in your hands?
Employees simply use their own excel without accessing main account data
Want to convert leads to customers
Put in lot of effort to generate leads?
Send payments links and close deals right away
Looking for a cost-effective payment collection tool
Want a tool with no setup cost, no hidden fee?
Download for free & pay only per transaction
Easy Steps To Use The Plugin
Just download the plugin, enter email ID and start collecting payments. It's that easy!
Install plugin & send payment links
Download the plugin and install it in just one click! Then enter email ID, validate it and start sending payment links via SMS or email directly from your excel
Check status & send reminders
Check status of payment links in real time: Paid, Unpaid, Expired - in Excel! Resend payment links if "Unpaid"
First of its kind payment innovation by PayU –
India's largest Fin-tech company
4,50,000+
Happy Merchants
businesses payu's plugin
We can now send multiple payment links to customers at one go and then track the status of payments realtime - all in Excel. PayU has made payments simple for us. Will surely recommend other businesses to use the plugin as well!

Easiest way to collect payments, that too, directly from MS Excel. Surely recommended to other businesses.
Have questions? If you are an existing PayUmoney merchant, please contact our PayUmoney Support.
If you are a new or an existing PayUnow merchant, please contact at PayUnow Support.
---